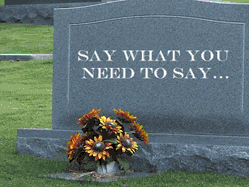 The Online Memorial Website :Create a memorial website in honor of your loved ones. Enshrine your photos, memories and tributes with your friends and family. Memorials are free to create and can be commemorated for $19.95. There is never a fee for visitors.

Send a Free Funeral Notice : We offer the free funeral notice to inform friends and family members of a loved ones passing, while keeping control of your privacy and security. Inform people via Email of Facebook, make announcements, travel reservations, send flowers, or make a charitable donation.

My Bucket List My Bucket list is a free application which helps you build and fulfill your life goals with your friends and family. Create your own list or help others achieve their dreams. Unlock badges when you complete different goals from your list. Get coupons and discounts from vendors to help you achieve your dreams!

Last Message - Coming Soon My Final Message allows you to send pre-recorded video messages to your friends and family in the event of your passing.You can create as many videos as you like and update or revise them at any time. Whatever you want to say you can ensure that you have the last word.

Account Vault - Coming Soon Your online world is connected through a series of passwords and profiles on all kinds of websites. What happens to your digital legacy after you die? Account vault allows you to designate someone to receive your entire Digital E-state in the event of your death.